The 10 Best Buys in Motorcycles for 2019
If you're motorcycle shopping this year, here's where to get the most bang for your buck.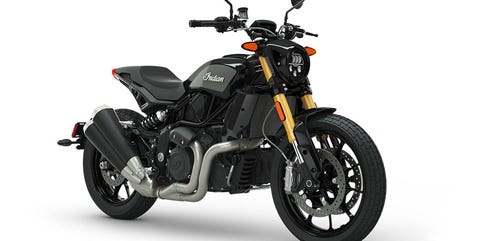 Retro motorcycle design is hot right now, and it's a great time to shop for one because this trend isn't just for high-dollar machines. Just about every segment of motorcycling has a vintage feel and half the bikes on this list have a cool back-in-the-day flavor. Here are the latest bikes, both retro and modern, that offer a big bang for the buck.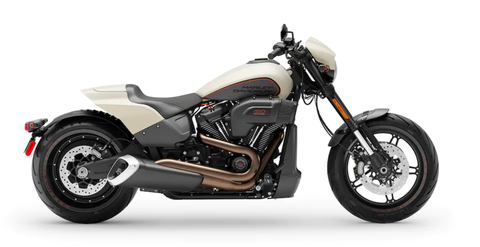 Manufacturer image
Just look at this thing—it has to be one of the toughest-looking new bikes on the market. The FXDR is unique among big Harleys because it's actually been designed to handle tight corners and switchbacks. Traditional Harleys are known for torque, style, and an easy cruising attitude, but the bikes tend to lack the clearance, suspension, and tires needed for aggressive riding. The Softail-based FXDR 114 changes all that with impressive lean angles, a 43mm inverted fork, and a forward riding position more like a naked standard bike. The 114-cid V-twin is a monster that doles out a solid 119 lb-ft of torque. Good thing there's a massive 240mm rear tire putting the power down.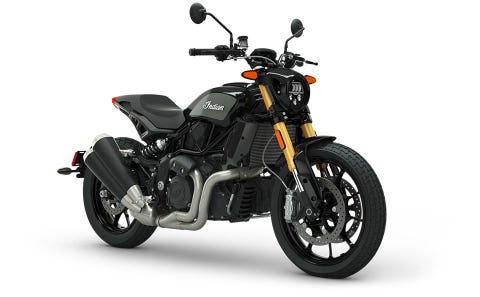 Indian has scored remarkable successes since the brand's relaunch in 2013, progress that was built on the back of traditional cruisers with classic riding dynamics. In other words, not the kinds of bikes you'd choose to chase a Ducati into the canyons. But for 2019, Indian finally has a sportier offering, and it's a stunner.
Based on the company's off-road FTR750 dirt track racer, the FTR 1200 S uses a 1203-cc twin delivering around 120 hp, which is plenty for the bike's sub-500-lb dry weight. Thanks to a big 43mm inverted front fork, an adjustable monoshock rear suspension, and big Brembo brakes, the FTR 1200 should be a worthy adversary for quite a number of naked sporty bikes.
It's cool to see Indian taking a big risk to build such a radically different bike for them—and pulling it off big time.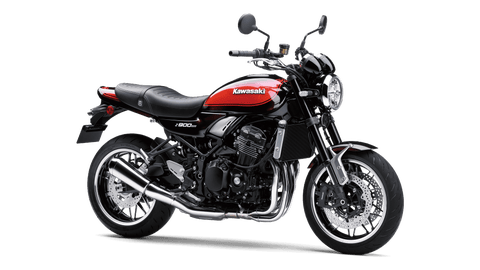 The great thing about today's retro bikes is that they only look retro—the technology inside is fully 2018. The Z900RS, which looks like a fresh take on the classic Z1, is based around the Z900, a contemporary Japanese sport bike. The 948-cc inline four-cylinder is a torquey beast, so the RS would be at home on just about any road. That big thickly padded seat is comfy and sits 32.8 inches off the ground. Similarly, the bike's ergonomics create a very natural riding position.
This is the kind of bike that can do it all: run canyons hard on the weekend, commute daily to work, or take a quick ride to the grocery store. About that last one: The Z900RS has handy tie-down attachment points to make sure that 12-pack stays with you all the way home.
BMW knows how to make a proper adventure bike. The company has been building its off-road-worthy dual sport bikes since the early 1980s. It invented the segment, and today's BMW bikes define it. So who better than BMW to build an affordable adventure machine?
The new GS is based upon BMW's G310R road bike and shares that model's single-cylinder engine. This bike gets its off-road chops from its taller, long travel (7.1-inch front fork) suspension and 19-inch front wheel and tire. But even with a high rider suspension, the BMW's reasonably low 32.9-inch seat height will keep it appealing for riders of smaller stature. For those that want an even lower ride, BMW offers an even lower 32.3-inch seat. And because it's a BMW, ABS is standard.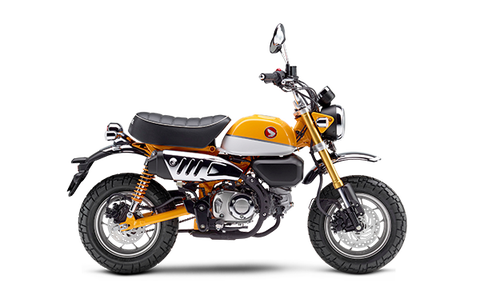 If there was a prize for "affordable retro radness" this year, it would most certainly go to Honda's new Monkey.
Classic minibikes from the late '60s and early '70s have had a quiet renaissance over the past few years, so Honda thought, Why not bring back an update of the company's original Z50 "monkey bike"? This new one is based on the bones of Honda's popular tiny tyke Grom sport bike and uses a 125-cc engine backed by a four-speed transmission.
At just 231 lbs and using tiny 12-inch wheels, the little Monkey is as light as it is nimble. It's pure fun to ride and to look at thanks to authentic retro touches like that big puffy padded seat. The Monkey could be the perfect, old-school urban runabout for those that think today's electric shared scooters are for the birds.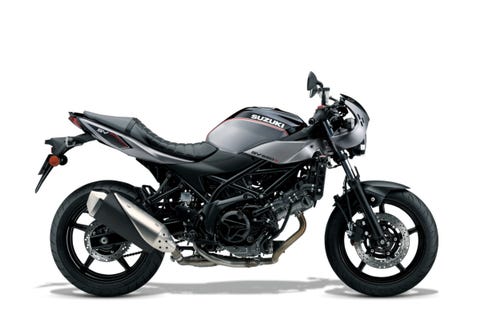 No bike deserves the popular café racer look more than Suzuki's beloved SV650. The SV is one of the greatest starter bikes on the market, but these machines are fun to ride for any skill level.
The café look comes from a pair of clip-on style bars (to place the rider farther forward and lower for a sportier feel). The SV650X also comes with a new saddle, fairing, and graphics. But what hasn't changed are the SV's 649-cc twin and the great suspension. It should be just as easy to ride as any other SV and Suzuki makes ABS standard here. And the new Glacier White paint scheme fits the bill perfectly. At just over eight grand, the X is only a bit pricier than the regular SV650 with ABS.